Bollywood is a world of "inspirations, rip-offs, and outright plagiarism". B-town has repeatedly and blatantly copied stuff from global movies over the previous few years. Everything, from the music to the story to the camera position to the poster, is taken from one place and substituted with our popular faces. We have to say, that's a lot of originality!
Bollywood's booming business owes a great deal of its inspiration to the West as Bollywood has taken the entire copying game to a whole new level, from plots to scripts. However, this isn't the first time Bollywood has used Hollywood as a source of "inspiration." Many have purposefully copied Bollywood movie posters from well-known Hollywood films. Admiring and being inspired by someone's work has always been the case, but today creators have taken it to a whole new level. Such instances make us question about the state of Bollywood and how long we can keep doing it. Here are 25 Bollywood posters copied not only from Hollywood but also from the movies around the world.
Which Are The Bollywood Movie Posters Copied From Hollywood In 2023?
1. Ra.One (2011)
There wasn't much to say about this Shah Rukh Khan film other than the fact that its poster was a blatant rip-off of the famous Hollywood movie 'Batman Begins.'
2. PK
Aamir Khan's PK sparked an interest for a variety of reasons, one of which being the Bollywood film poster's resemblance to an album cover by a Portuguese musician named Quim Barreiros. Quim was shown holding an accordion to hide his bare basics on the original cover, which was released in 1973.
3. Anjaani Anjaani (2010)
Priyanka Chopra Jonas and Ranbir Kapoor starrer Anjaana Anjaani has a poster that is an exact replica of the Hollywood film An Education.
4. Rowdy Rathore (2012)
We all know Rowdy Rathore is a copy of the Telugu film Vikramarkudu from 2006, but even the poster isn't original. It's a rip-off of The Replacement Killers movie poster.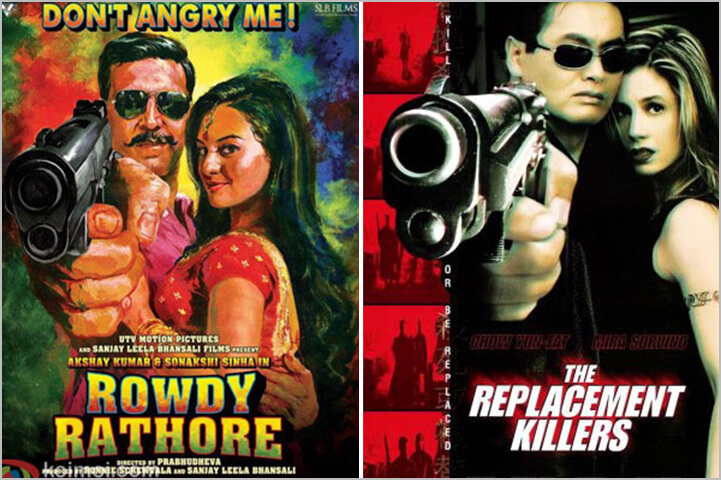 Also Read: 20 Best Rappers In India You Must Hear
5. Zindagi Na Milegi Dobara (2011)
While Zoya Akhtar's film Zindagi Na Milegi Dobara inspired many of us to go on wonderful trips with our friends, the film's poster appears to be based on the 2005 Hollywood film Lords Of Dog Town.
6. Aitraaz (2004)
Without a doubt, Aitraaz was a fantastic film, but its poster is a rip-off of The Graduate, which was released in 1967.
7. Baahubali: The Beginning (2015)
Baahubali: The Beginning was a fantastic film, but did you know that the film's poster was replica of Simon Birch? Neither did I.
8. Bhoot (2003)
The poster of Bhoot, starring Urmila Matondkar and Ajay Devgn, has been copied from the Hollywood movie Final Destination 2.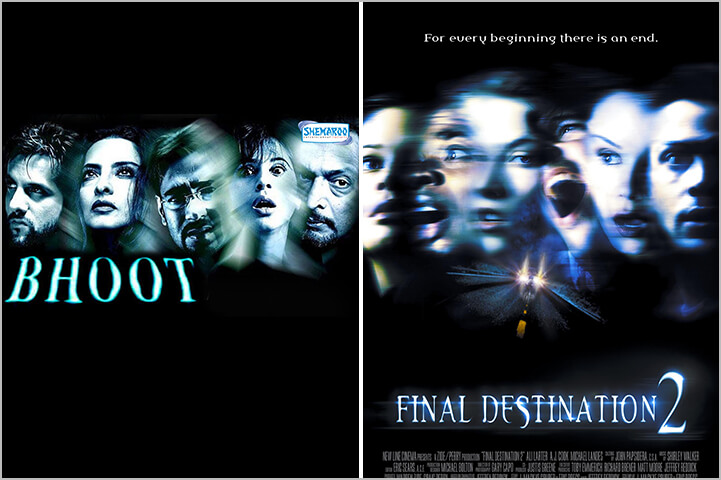 Also Read: Top 10 Best Coke Studio Songs Ever
9. Atithi Tum Kab Jaoge? (2010)
Atithi Tum Kab Jaoge's poster was copied from the Hollywood film License to Wed, which was released in 2007.
10. Ugly Aur Pagli (2008)
The poster of the film Ugly Aur Pagli starring Mallika Sherawat and Ranvir Shorey looked like a copy of the poster of a Hollywood film 'Til Death.
11. Murder 3 (2013)
The poster of Murder 3 is copied from the movie poster Jennifer's Body, starring Megan Fox. However, kudos for adding the thorns!
12. Agent Vinod (2012)
The poster of Saif Ali Khan's movie Agent Vinod is copied from the Hollywood movie Johnny English Reborn.
Also Read: Mind Blowing Sunny Hindustani Indian Idol Performances Which Let Judges' Jaw Dropped
13. Hulchul (2004)
Can you tell the difference between Hulchul and the poster for My Big Fat Greek Wedding? Yes, there isn't any.
14. Gulaal (2009)
Gulaal's movie poster is copied from American drama series The Shield-Season-5 , which aired in 2006.
15. Bhoomi (2017)
The poster for Sanjay Dutt's film Bhoomi is a copied Bollywood movie poster from the Hollywood film of Liam Neeson's Grey.
16. Ek Villian (2014)
We can't help but notice that Ek Villian's movie poster is a complete ripoff of Step Up, a 2006 Hollywood dance drama.
Also Read: 40 Best Youtubers in India Who Have Inspired Many
17. Ghajini (2008)
While Ghajini was a box office hit, the movie's poster was eerily similar to that of The Incredible Hulk.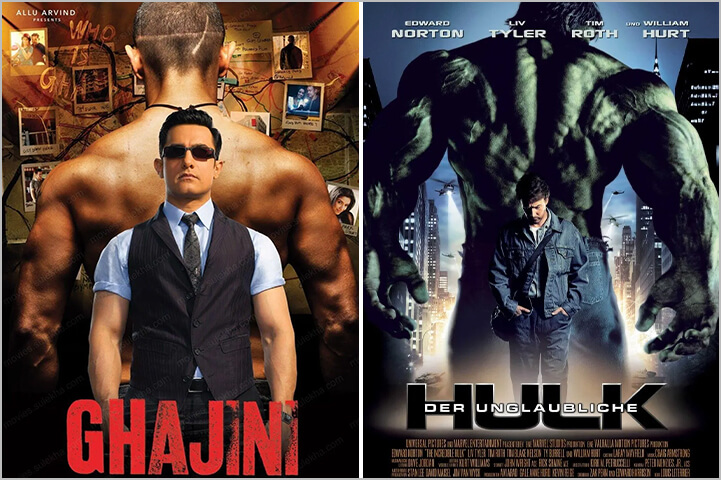 18. Hisss (2010)
The posters for Mallika Sherawat's 2010 film Hisss and the 2004 film King Arthur are uncannily similar. Mallika, draped in a red fabric, made news with this poster at that time.
19. Xpose (2014)
Not only the storyline, but even the movie poster of Xpose starring Himesh Rashammiya in lead is copied from Leonardo DiCaprio's Hollywood movie The Great Gatsby, which was released in 2013.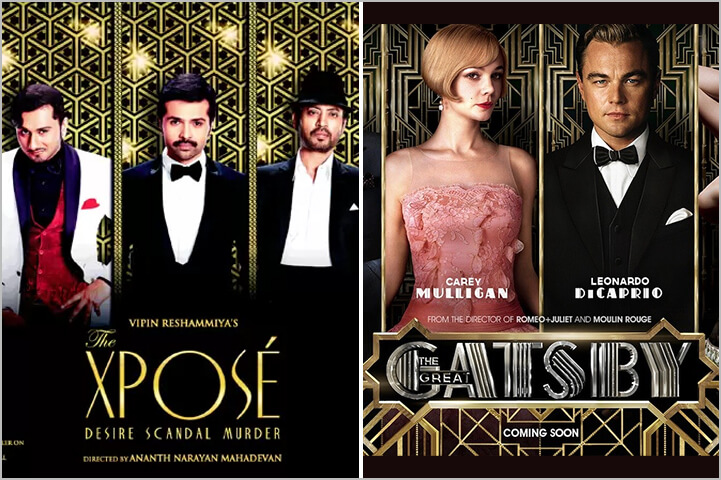 20. Mausam (2011)
The poster for Shahid Kapoor and Sonam Kapoor's film "Mausam" was copied from the award-winning film "Titanic."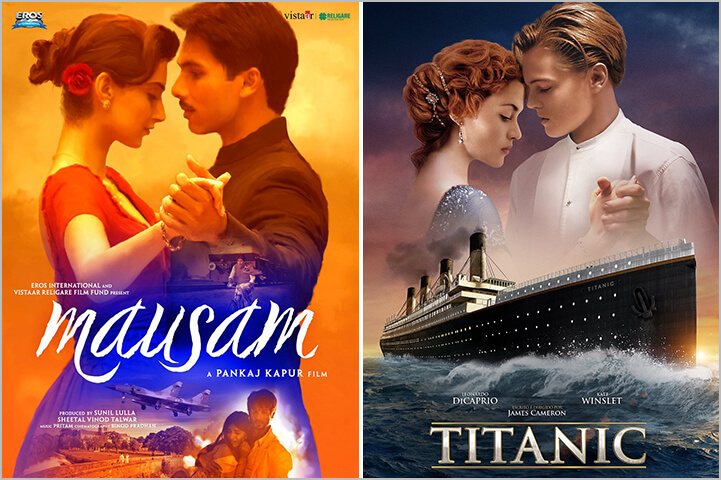 21. Kites (2010)
The Bollywood film starring Hrithik Roshan and Barbara Mori "Kites" movie poster looks alike to the famous Hollywood romantic movie poster "The Notebook."
22. Heroine (2012)
Madhur Bhandarkar's "Heroine" movie poster, which starred Kareena Kapoor in the lead, is similar to the cover of a novel "The Lost Flamingoes of Bombay" by Siddharth Dhanvant Shanghvi which was released in 2009.
Also Read: Top 10 Motivational Speakers In India: How To See Their Videos
23. Creature3D (2014)
Bipasha Basu and Imran Abbas Naqvi feature in Vikram Bhatt's horror flick "Creature 3D." posters is copied from Hollywood film "Jeepers Creepers."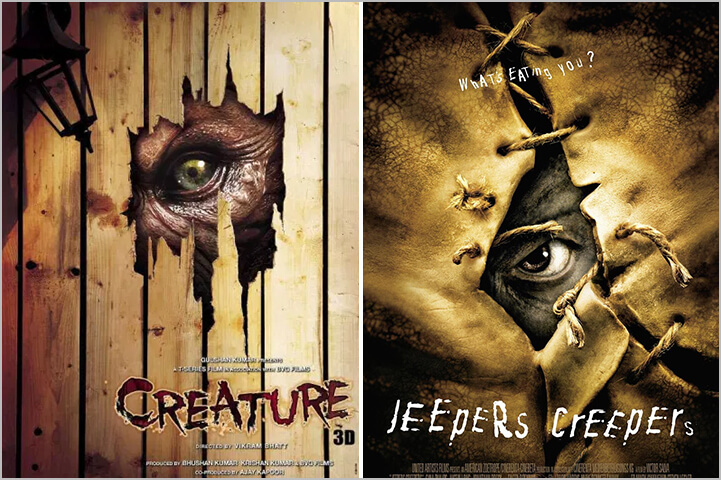 24. Akele Hum Akele Tum (1995)
Akele Hum Akele Tum's movie poster is a blatant copy of Tom Hanks and Megan Ryan's Sleepless in Seattle.
25. Zero (2018)
Zero, starring Shah Rukh Khan, Katrina Kaif, and Anushka Sharma, was a disaster. What's more disappointing is that the film's poster was, very similar to a French film called Un Homme La Hauteur.