India is internationally recognised for its food and cultural heritage. Indian cuisine, as a whole, is often regarded as one of the best around the globe. Do you know the national dish of the United Kingdom? It is Chicken Tikka Masala. From the olden times, we have heard tales of the rulers and kings being fond of food and how some of the famous Indian chefs cooked delicious several-course meals for them.
It is not surprising that Indian chefs are making a name for themselves not just in India but all around the world and have come from a country of "foodies". Their unique cooking methods and spices mix have put India on the global culinary map. We bring you the list of some of the best chefs in India who are not only considered masters of their art in India but also overseas.
Without further ado, let us look at the list.
PS: These chefs are placed in a random order in the list below.
Top 10 Chefs In India That Have Made A Name For Themselves (2023)?
Even though women mostly rule the kitchen in Indian homes, but so is not the case when it comes to commercial kitchens, where, for a long time, men have had a strong command. This is, however, changing.
1. Chef Vikas Khanna
Today, Chef Vikas Khanna needs no introduction in the culinary world. He is one of the top chefs in India and also around the globe. Vikas Khanna was born on 14 November 1971 into a Punjabi household in Amritsar. He completed his hotel management degree at Manipal Academy of Higher Education in 1991. He continued his education at New York University and the Culinary Institute of America. At GD Goenka University, Vikas Khanna also earned an honorary doctorate.
Vikas Khanna has won the culinary world's most prestigious award, the Micheline Star. Vikas Khanna was also a Guest Judge on MasterChef Australia in Season 6 and featured as a Consultant Chef on Gordan Ramsay's TV series Kitchen Nightmares.
He has also judged some seasons of MasterChef India. In the past, he has worked with some of the biggest hotel chains in India, including the Taj, Oberoi, Leela Group of Hotels and Welcome.
Awards and Honors
Received the GQ Magazine's 2012 Man of the Year Award for India.
Featured on the cover of the Men's Health India Magazine in 2012.
Khanna was listed as the sexiest man alive in 2011 by People Magazine.
He holds a doctorate in both literature and philosophy.
He was given the SATH "Access to Freedom Award" in 2005.
2. Chef Sanjeev Kapoor
Chef Sanjeev Kapoor is a household name in the Indian culinary industry. Chef Kapoor was born in April 1964 in Ambala, India and began his culinary career in 1984, inspired by his family's passion for food. After earning his Diploma in Hotel Management from the Institute of Hotel Management Catering & Nutrition, Pusa, New Delhi, he started working in the hospitality sector in 1984. Alyona Kapoor, a partner in Kapoor's company Turmeric Vision Pvt. Ltd. (TVPL), is now his spouse.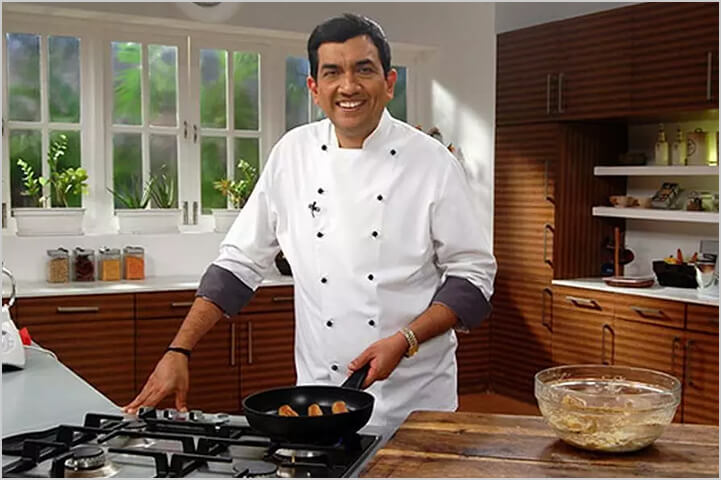 This cooking legend has ignited the passion for food and cooking in many Indian men. Chef Kapoor started his career as the youngest Executive chef at the Centaur Hotel in Mumbai back in 1992 and has certainly come a long way since his humble beginnings.
Chef Kapoor's TV show, "Khana Khazana" which ran for over 17 years, is still known to be one of the best celebrity chef shows in the world. He was also the judge of MasterChef India for two seasons (Seasons 3 and 4). Chef Kapoor was also the first chef in the world to own a 24X7 food and lifestyle channel called Food Food, which was launched in January 2011.  Sanjeev Kapoor has written over 150 best-selling cookbooks, owns multiple restaurants, including "The Yellow Chilli", and has won numerous culinary awards in his career.
Awards and Honors
Sanjeev Kapoor was awarded the esteemed Padma Shri in 2017, India's 4th highest civilian honour.
3 ITA Awards for Best Cooking Show for his acclaimed show "Khana Khazana" in 2010, 2004, and 2002.
The prestigious National Award for "Best Chef of India" from the Government of India.
3. Chef Vineet Bhatia
Chef Vineet Bhatia is one of the most successful chefs of Indian origin, while some would argue him to be the best. Vineet Bhatia was born in 1967 and was raised in Mumbai. In 1988, Bhatia was hired as a trainee at the Oberoi School of Hotel Management in New Delhi, where he completed his training from 1990 to 1991. From 1990 to 1993, he served as the Chef de Cuisine at The Oberoi. In 1993, he relocated to London and worked as the executive chef at Star of India in South Kensington. The "Maharaja by Vineet" restaurant in the Mövenpick Hotel Al Khobar, Saudi Arabia, and "Rasoi by Vineet" in Geneva are some of his critically acclaimed restaurants.
Today, he is among the few Indian chefs to have won the prestigious Michelin star, but he was also the first to receive it. If this was not enough, he was the first Indian chef to have received 2 Michelin stars. He owns 11 restaurants, including one in the upscale Harrods in London.
Vineet Bhatia has also been on the show The Final Table, which aired on Netflix. Chef Bhatia is known for his easy-to-follow recipes, which are appropriate for an amateur looking to learn Indian cooking, but his Dal Makhani is what people drool over and makes him the best chef in india.
Awards and Honors
Food ambassador for GREAT Britain & Northern Ireland campaign.
Michelin Star award for his restaurants in Chelsea, Geneva, Switzerland, and London.
Also Read: Top 40 Best Youtubers In India Who
4. Chef Anjum Anand
Anjum Anand, an accomplished Indian British TV chef and food writer, has established a reputation in the culinary world by specialising in wholesome and tasty Indian food. Ms Anand, was born into a Punjabi family in London, England, on August 15, 1971, developed a love for cooking due to her childhood struggles with weight.
She attended the International School in Geneva, Switzerland, before enrolling in a boarding school in Hampshire, England. She continued her education at the renowned Leiths School of Food and Wine in Paris. After receiving her degree, Anjum began her own catering business after working as a cook at several London restaurants. With her program, "Indian Food Made Easy," which aired on BBC Two in 2007, she later began a career in television.
She received her education from the Business Administration School of Geneva and published her first cookbook when she was 25. She was a frequent guest on UKTV Food's Great Food Live from 2004 to 2007. Additionally, she has demonstrated her culinary prowess on programmes like Anjum's Spice Stories, Market Kitchen, and Indian Food Made Easy.
Awards and Honors
Prestigious "Best New Product" award at World Food Awards
The British Curry Club named her Personality of the Year, an award presented by Prime Minister David Cameron.
5. Chef Hari Nayak
Indian-born chef, entrepreneur, and author Hari Nayak has made a name for himself in the culinary world thanks to his extraordinary abilities and successes. He was born on February 8, 1974, in Udupi, Karnataka, India. Before enrolling at the Culinary Institute of America, he studied at the esteemed Welcome group Graduate School of Hotel Administration. After relocating to the US, he spent the first twenty years of his career as a chef working for restaurants in New York City. He is well-known for advocating South Indian food and his job as a chef. He travelled to New York over 27 years ago to pursue a career as a pastry chef. Halo Fete, the first patisserie to operate in the US, was his first establishment. After that, he was hired as an executive chef by a North American food service provider and has since worked for several culinary businesses, including Sodexo.
Hari Nayak, a well-known author of seven highly regarded books, including "Modern Indian Cuisine," is well known for his culinary skills and work as a restaurateur and culinary consultant. His most recent novel, "Spice Trail," has received much attention and acclaim from readers and critics alike. His restaurants, which are spread over the globe and include Sona, Jhol, Charcoza, Alchemy, Masti, CafeSpice, and Bombay Bungalow, exemplify his adaptability and dedication to providing a top-notch dining experience.
Awards and Honors
Pride of the Profession Award from the National Restaurant Association of India
ITC Chairman's Award
6. Chef Harpal Singh Sokhi
Meet one of the best chefs in india and culinary genius Harpal Singh Sokhi. Sokhi, a talented cook who is also a successful restaurateur, novelist, and businessperson, hails from Kharagpur, West Bengal. He did his schooling at the South Eastern Railway Mixed Higher Secondary School. In 1984, Sokhi enrolled at the Institute of Hotel Management (IHM), Bhubaneswar, thanks to his brother's encouragement to take the hotel management entrance exam. Sokhi graduated from IHM Bhubaneswar with a certificate in catering in 1987. He began his work at The Oberoi in Bhubaneswar as a trainee cook.
Sokhi has a long-standing career and has worked for various hotel and restaurant brands, learning his craft and perfecting his abilities. He took the risk and launched his restaurant franchise in 2013, called "The Punjabi Tadka." His business endeavour has been a spectacular success, winning him praise from the media and his devoted followers.
Awards and Honors
Recognised by The Food Channel in 2017 as the Most Popular Food Program Host.
Received the Indian Restaurant Awards' Best Chef of the Year honour in 2016.
Named the Most Admired Celebrity Chef of the Year in 2012.
7. Chef Ranveer Brar
Chef Ranveer Brar is a household name and one of the best chefs in India. He was born on 8 February 1978 in Lucknow, India, into a Sikh family. He attended the HAL School in Lucknow for his education. He completed his education at "Institute of Hotel Management.". He established himself in the Fort Aguada Beach Resort in Goa in 2001 by opening "Morisco," an Italian restaurant, "il Camino," and "Fishtail," a delightful outside barbecue joint. He is blissfully married to Pallavi Brar, whom he met in 2013 while working as an executive chef in a hotel.
Chef Brar was an official culinary expert at 25 to have ever worked with a 5-star in India. Currently, Chef Brar is the senior official culinary expert at the famous Novotel Mumbai at Juhu beach. He is also a supervisor chef at the Dosa Factory, the Shalimar in Cambridge, and Mantra in Boston.
Chef Brar has done more than 20 shows on TV, which makes him one of the most famous chefs in India. He rose to fame in the public's eyes with his famous show "Health Bhi Taste Bhi", which aired on Zee Khana Khazana. He was among the judges on MasterChef India in 2 seasons (season 4 and Season 6). Chef Brar has also written two cookbooks which have earned him respect in the culinary world.
Awards and Honors
Belongs to the James Beard Foundation as an honorary member.
Received the LFEGA's Food Entertainer of the Year award in 2018.
Received the Indian of the Year for Chef and TV Host of the Year award in 2017.
Chosen to represent the brands of SunGold Kiwifruit in India, Go Chess India, Philips India Kitchen Appliances, Assocom Institute of Technology and Management (AIBTM), and Bertolli Olive Oil.
Brar was also mentioned in the book Famous Chefs of India by Maryam H Reshii.
Also Read: 10 Most Famous Poets In India And Their Inspirational Works
8. Chef Madhur Jaffrey
Chef Madhur Jaffrey is an Indian food and travel writer, chef and TV personality widely recognised for bringing Indian cuisine to the western hemisphere. Madhur Jaffrey Born on August 13, 1933, She studied at Queen Mary's Higher Secondary School in Delhi and later went to Miranda House, a women's college, from 1950 to 1953, earning a B.A. in philosophy with a minor in English. After completing her undergraduate studies, she relocated to London and enrolled in the famed Royal Academy of Dramatic Art (RADA) to pursue formal acting training. Her first marriage with Saeed Jaffrey lasted for 7 years, and then she remarried Sanford Allen.
The cookbook "An Invitation to Indian Cooking" was published in 1973 and was later inducted into the James Beard Foundation's Cookbook Hall of Fame in 2006. Jaffrey has written over a dozen cookbooks and appeared on many TV programmes; she was also the food consultant at Dawat (now closed), which was widely considered one of the best Indian Restaurants in New York City by several food critics.
What makes her such an exceptional chef is that she learned to cook childhood food as an adult. Until she was 19, she did not find her love for cooking and often failed to cook at school. It was only at RADA (Royal Academy of Dramatic Art) that she learned how to cook using the recipes of dishes which her mother provided.
Awards and Honors
The prestigious Padma Bhushan by the Government of India
Multiple James Beard Awards in various categories such as Cookbook of the Year, International Cooking, and Who's Who of Food and Beverage in America.
9. Chef Kunal Kapur
Kunal Kapur is an Indian celebrity chef, restaurateur and TV personality who began his career around 2000 with the Taj Group of Hotels. Kunal Kapur was born on 18 September 1979 to a Punjabi household in New Delhi. He attended St. Francis De Sales School and the Dr. Ambedkar Institute of Hotel Management Catering & Nutrition in Chandigarh for his higher education in hotel management.
He started his profession around 2000 with the Taj Group of Hotels after learning how to cook from his father and grandfather as a little boy. He currently holds the position of Executive Sous Chef at the Gurgaon-based Leela Kempinski. In 2008, Chef Kunal was awarded "The Best Indian Chef" by India Today in New Delhi, and he has also titled "The Next Big Guy in Kebabs and Curries in India".
Not only has Chef Kunal cooked for Prime Minister Narendra Modi and German Chancellor Angela Markel in Bangalore, but he also cooked for the 42 First Ladies at the India Africa Summit. Reaffirming that he is one of the most famous chefs in India, he has hosted and judged MasterChef India during its 1st, 2nd, 3rd and 5th seasons. Chef Kunal was also invited as a guest judge on MasterChef America during the 18th episode of season 2. Apart from these 2 shows, he has done over half a dozen cooking shows.
Awards and Honors
Awarded the Sir Edmund Hillary Fellowship in the field of Food & Beverage by the Prime Minister of New Zealand, John Key.
TA Award for Best Anchor – Game/Quiz Show
Epicurean Guild Award for Best Food Entertainer
10. Chef Nita Mehta
Nita Mehta is one of India's most renowned chefs, writers, restaurateurs, and media figures. Nita Mehta' was born in Delhi on August 12, 1943. She completed her education at the prestigious Lady Irwin College. She is married to Subhash Mehta. Today, she is renowned for her distinctive culinary methods, which are strongly influenced by Indian culinary delights. She is well known for her beautiful cookbooks, cooking workshops, and her position as a celebrity judge in several cooking competitions.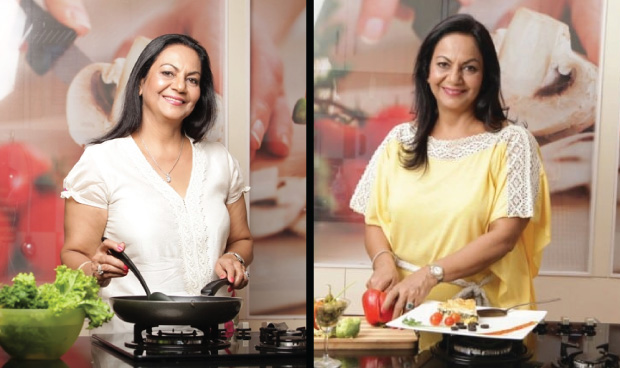 Nita is one of India's top 10 chefs and an inspiration to aspiring cooks all around the nation, thanks to her unmatched talent and commitment to the culinary arts. With more than 400 cookbooks released, Nita has cemented her status as a renowned author by selling more than 6 million copies globally. She founded the Nita Mehta Culinary Academy in 2001, a centre in New Delhi devoted to fostering future chefs. In 2012, she opened a restaurant named Kelong in Sarabha Nagar, Ludhiana, Punjab, motivated by her love of fine dining. She appeared on the screens of MasterChef India in 2011 as a judge, displaying her depth of culinary expertise.
Awards and Honors
Received the Best Asian Cookbook Award for her book Flavors of Indian Cooking at the International Cookbook Expo in Paris in 1999,
Earned the titles "Nutrition Expert" and "Cooking Expert" from the media.
With this, we conclude our list of the 10 best chefs in India who have established a name for themselves in the culinary world. All these Indian chefs have made the country proud and put have put Indian cuisine on the World map. Are there some chefs we missed out on? Tell us in the comments section below, and we might just extend the list if you persuade us enough.
Also Read: Top 11 Best Motivational Speakers In India
Frequently Asked Questions (FAQs)
Question 1: Who is the top chef in India?
Answer 1: No 1 chef in India could be controversial simply because food and taste is very subjective, however, the general consensus does believe that Chef Vikas Khanna is the best chef in India owing to what he has achieved in India and overseas, and the accolades he has earned.
Question 2: Who is the highest paid chef in India?
Answer 2: According to reports, Chef Sanjeev Kapoor is the highest paid chef in India with estimated earnings of ₹ 20 crore, Chefs Vikas Khanna and Ranveer Brar also rank among the highest paid chefs in India.
Question 3: Who is the best Indian chef in the world?
Answer 3: Chef Vikas Khanna is regarded as the best Indian chef in the world as of now owing to the success he has got, both in India and overseas, in running the restaurant business. He has worked with Gordon Ramsay, been on MasterChef America as a guest Judge where the contestants were given the task to replicate his complex dish.