India is a nation which is hailed for its food and heritage. Indian cuisine, as a whole, is often regarded as one of the best around the globe. Do you know what is the national dish of the United Kingdom? It is Chicken Tikka Masala. From the olden times, we have heard tales of the rulers and kings being fond of food and how some of the famous Indian chefs cooked delicious several course meals for them.
It does not come as a surprise that Indian chefs are making a name for themselves not just in India but all around the world having come from a country of "foodies". Their unique methods of cooking and the mix of spices have put India on the global culinary map. We bring you the list of some of the best chefs in India who are not only considered masters of their art in India but also overseas.
Without further ado, let us look at the list.
PS: These chefs are placed in a random order in the list below.
Who Are Top 10 Chefs In India That Have Made A Name For Themselves (2023)?
Though the kitchen in Indian homes is ruled by women, so is not the case when it comes to the commercial kitchens, where, for a long time, men have had a strong command. This is, however, changing.
1. Chef Vikas Khanna
Chef Vikas Khanna needs no introduction in the culinary world. He is one of the top chefs in India and also around the globe. He is also the winner of the culinary world's most prestigious award, the Micheline Star.
Vikas Khanna was also a Guest Judge on the MasterChef Australia in Season 6 and also featured as a Consultant Chef on Gordan Ramsay's TV series Kitchen Nightmares.
Vikas Khanna has also judged MasterChef India for 5 instalments (2nd to 6th season). Chef Khanna, in the past, has worked with some of the biggest hotel chains in India including Taj, Oberoi, Leela Group of Hotels and also Welcome.
2. Chef Sanjeev Kapoor
Chef Sanjeev Kapoor is a household name in the Indian culinary industry, many of the best chefs in India regard him as the reason who ignited the passion for food and cooking in them. Kapoor's TV show called "Khana Khazana" is one of the best celebrity chef show in the world and ran for 17 years.
Sanjeev Kapoor has written over 150 best-selling cookbooks, owns multiple restaurants including "The Yellow Chilli" and have won numerous culinary awards in his career. He was also the judge of MasterChef India for 2 seasons (Season 3 and 4)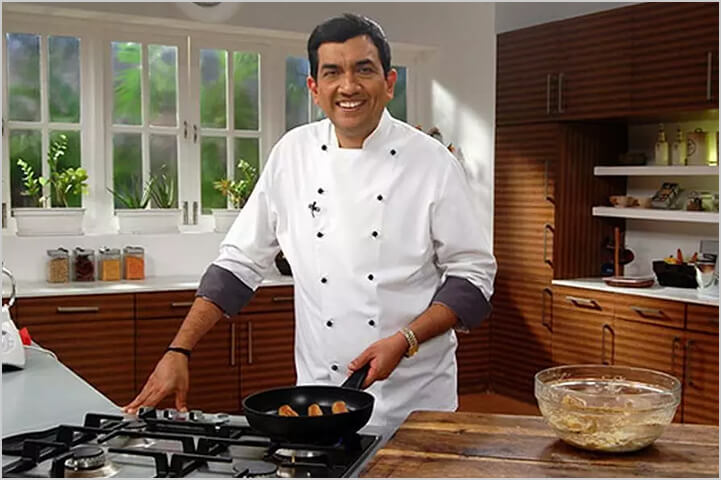 Chef Kapoor was also the first chef in the world to own a 24X7 food and lifestyle channel called Food Food, which was launched in January 2011. Chef Kapoor was also the youngest Executive Chef at the Centaur Hotel in Mumbai, back in 1992.
Sanjeev Kapoor was also awarded the Padma Shri in 2017 which is the 4th highest civilian honor in India.
3. Chef Vineet Bhatia
Chef Vineet Bhatia is one of the most successful chefs of Indian origin, while some would argue to him be the best. Not only he is among the few Indian chefs to have won the prestigious Michelin star but he is also the first to receive it.
If this was not enough, he was the first Indian chef to have received 2 Michelin stars. He owns 11 restaurants which includes one in the upscale Harrods in London.
Vineet Bhatia has also been on the show The Final Table which aired on Netflix.

Chef Bhatia is known for his easy to follow recipes for the next person who wants to learn how to cook, but his Dal Makhani is what people drool over.
Also Read: Top 40 Best Youtubers In India Who
4. Chef Atul Kochhar
Chef Atul Kochhar is an Indian-bord, UK-based celebrity chef who owns several restaurants and has made TV appearances. Kochhar is one of the first two Indian chefs to have received a Michelin star. Not just this, he is only one of the few Indian chefs to have won 2 Michelin stars.
Chef Atul Kochhar has written over 5 cookbooks in his career and is among the best seller in the culinary industry and not to mention he is one of the most critically acclaimed chefs across the globe.
If you want to have a taste of Chef Kochhar's culinary cognizance and live in Delhi NCR, then you can visit the SAGA: Cuisines of India which he owns and run in Gurugram at Golf Course Road.
5. Chef Vicky Ratnani
Vicky Ratnani is one of the biggest chefs in India and was also won the Chef of the Year award in 2015 at the Indian Restaurant Awards. Ratnani has made appearances in a number of shows both in India and overseas which includes A Taste Down Under (shot in Australia), Gourmet Central, Health Mange More, Pressure Cooker, Sanjeev Kapoor ke Kitchen Khiladi, Vicky Goes Desi, Vicky Goes Foreign, Vicky Goes Veg, and Vickypedia.
Vicky Ratnani also consults as a Culinary Director with GIPL – a subsidiary of Bharti Airtel – and conceptualises restaurant menu and food concepts for some household names including Pizza Express, Ministry of Crab, Nihonbashi, The Market Project, The Poona Project, and The Runway Project.
If you wish to get a taste of Chef Ratnani's talent in the kitchen, you will have to visit Mumbai where he owns multiple restaurants including Hello Green, The Korner House, Nido and Aurus.
6. Chef Shipra Khanna
Chef Shipra Khanna is an Indian celebrity chef, restaurateur, author and a Television personality. Chef Khanna rose to fame when, in 2012, she won the second season of the Indian TV show MasterChef which aired on Star Plus.
After she won MasterChef, she has her own TV show as a celebrity chef on Food Food and did not stop there, she went on to appear on many more TV cooking shows. In 2013 she opened her first restaurant in Ahmedabad named H.O.T- House of Taste and in 2017 she opened The Darzi Bar & Kitchen in Delhi.
She has won many accolades which includes the title of The Culinary Ambassador to Spain by the Spanish Ambassador to India in 2017, she has also been honoured by the Le Cordon Bleu, Paris which is an international network of hospitality and culinary schools teaching French haute cuisine.
7. Chef Ranveer Brar
Chef Ranveer Brar is a household name and one of the top chefs in India. Chef Brar was an official culinary expert at the age of 25 to have ever worked with a 5-star in India. Currently Chef Brar is the senior official culinary expert at the famous Novotel Mumbai at Juhu beach.
He is also a supervisor chef at the Dosa Factory and the Shalimar in Cambridge and at Mantra in Boston.
He rose to fame in the public's eyes with his famous show "Health Bhi Taste Bhi" which aired on Zee Khana Khazana. He was among the judge on the MasterChef India in 2 seasons (season Four and season Six).
Chef Brar has done more than 20 shows on TV which makes him one of the most famous Indian chefs. Chef has also written two cookbooks which have earned him respect in the culinary world.
Also Read: 10 Most Famous Poets In India And Their Inspirational Works
8. Chef Madhur Jaffrey
Chef Madhur Jaffrey is an Indian food and travel writer, chef and a TV personality who is widely recognised for bringing the Indian cuisine to the western hemisphere with the cookbook called An Invitation to Indian Cooking in 1973. The book was inducted in the James Beard Foundation's Cookbook Hall of Fame in 2006.
Jaffrey has not only written more than a dozen of cookbooks and appeared on a lot many TV programmes, she was also the food consultant at Dawat (now closed) which was widely considered one of the best Indian Restaurants in New York City by several food critics.
What makes her such an exceptional chef is that she had learned to cook childhood food as an adult. Until 19 she did not find her love for cooking and often failed cooking at school. It was only at RADA (Royal Academy of Dramatic Art) that she learned how to cook using the recipes of dishes which were provided by her mother.
9. Chef Kunal Kapur
Kunal Kapur is an Indian celebrity chef, restaurateur and a TV personality who began his career around 2000 with the Taj Group of Hotels. In 2008, Chef Kunal was awarded with the "The Best Indian Chef" by India Today in New Delhi, he was also titled as "The Next Big Guy in Kebabs and Curries in India".
Not only Chef Kunal has cooked for the Prime Minister Narendra Modi and German Chancellor Angela Markel in Bangalore, he also cooked for the 42 First Ladies on the Indian Africa Summit. Reaffirming the fact that he is one of the famous chefs in India, he has hosted and judged MasterChef India during its 1st, 2nd, 3rd and 5th seasons.
Chef Kunal was also invited as a guest judge on the MasterChef America during its season 2 episode 18.
Apart from these 2 shows, he has done over half a dozen shows cooking shows. He was also awarded the Sir Edmund Hillary Fellowship in the field of Food & Beverage by the Prime Minister of New Zealand, John Key.
10. Chef Tarla Dalala
Chef Tarla Dalal, who dies in November 2013, is still regarded as one of the best chefs in India simply because how easy she made the lives of all the people who lived alone. Her recipes were so easy to follow and the food always turned out to be so tasty, everyone, especially, students living far from home never missed from home.
She has composed over 100 books of which she has sold more than 30 lakh copies, she also ran the biggest India site for a magazine called Cooking and More. Even though she is not here with us, she continues to teach the young generation how to cook tasty meals with utmost ease via her YouTube channel.
With this, we conclude our list of the 10 best chefs in India who have established a name for themselves in the culinary world. All of these and other Indian chefs have made the country proud and put Indian cuisine on the World map.
Do you think there are some chefs we missed? Tell us down in the comments, we might just extend the list if you persuade us enough.
Also Read: Top 11 Best Motivational Speakers In India
Frequently Asked Questions (FAQs)
Question 1: Who is the top chef in India?
Answer 1: No 1 chef in India could be controversial simply because food and taste is very subjective, however, the general consensus does believe that Chef Vikas Khanna is the best chef in India owing to what he has achieved in India and overseas, and the accolades he has earned.
Question 2: Who is the highest paid chef in India?
Answer 2: According to reports, Chef Sanjeev Kapoor is the highest paid chef in India with estimated earnings of ₹ 20 crore, Chefs Vikas Khanna and Ranveer Brar also rank among the highest paid chefs in India.
Question 3: Who is the best Indian chef in the world?
Answer 3: Chef Vikas Khanna is regarded as the best Indian chef in the world as of now owing to the success he has got, both in India and overseas, in running the restaurant business. He has worked with Gordon Ramsay, been on MasterChef America as a guest Judge where the contestants were given the task to replicate his complex dish.