The craze of fantasy games has skyrocketed in India after the entry of the best fantasy cricket apps like Dream11 and MY11 Circle. According to the Ficci-EY report, the Indian fantasy sports industry is expected to reach $2.5 billion by the end of 2023. The fantasy games industry is growing at a CAGR of 32% and is anticipated to be worth $3.7 billion by 2024.
Given the huge fan following associated with cricket, it is among India's most popular games in Fantasy sports. In 2021 cricket fantasy apps held the highest market share of fantasy sports in India, making up around 85% of the total fantasy sports market. Cricket is followed by hockey and football, with 6.7% and 6.3 % market shares, respectively. For those new to the world of fantasy sports, let us first understand what fantasy apps are.
What are Fantasy Apps?
Fantasy Apps provides an online gaming platform where users can create a virtual team of real players. It allows you to score points based on the performance of your chosen players in real-life matches. You can use your Cricket knowledge to play online fantasy games and use online prediction platforms to earn real money. Fantasy apps fall under the Fantasy Sports genre as defined by Indian Law.
The Fantasy apps organise different tournaments for their users wherein one can win the tournament by achieving maximum points and coming on the No. 1 rank on the leaderboard.
What is Fantasy Cricket?
Fantasy cricket is a genre of Fantasy sports. These new fantasy cricket apps provide an online gaming platform for real cricket players. The games on these apps are based on batting and bowling orders. The concept here revolves around selecting a team of 11 players from the pool of players, and you will score the points based on how your team performs.
There are no budget caps, and player selection is not limited to a particular number of batsmen, bowlers, and all-rounders. A fantasy cricket team can have any number of players.
Disclaimer: These games involve an element of financial risk and may be addictive. Please play responsibly and at your own risk.
List of Top 10 Fantasy Cricket Apps In 2023
Let us now take a look at the top 10 fantasy apps that have amassed a huge popularity in India.
1. Howzat
Howzat understands the passion for cricket in India and converts that passion into something concrete with the real money feature. Howzat is an online fantasy sports platform where you can create a virtual cricket team of 11 players from an ongoing real-life match.
This 100% legal wagering app is too simple to handle. It is one of India's best fantasy apps, specially designed for cricket fans. It offers a platform for cricket fans to apply their knowledge of cricket and enjoy the sport better by offering them some cash rewards. All you need to do is create an account on the app and use your cricket knowledge to create a unique team that will help you win some real cash that you can withdraw from your bank account.
2. Dream 11
Dream 11 is one of the earliest Fantasy Cricket World apps. It is amongst one of the best games to earn money online in India for playing fantasy cricket online and winning cash prizes. With over eight crore users, this app also has the maximum number of fantasy cricket participants than any other fantasy cricket app.
Dream 11 is popular among gamers because it is easy to use. It also offers colossal pool prizes, a huge base of players, daily offers, various other sports, contests, etc. On this platform, you can also play other fantasy games apart from cricket, like football, basketball, handball, baseball, etc.
This app gives users a sign-up bonus of Rs 100, and users can also get some cash back by referring their friends. You can withdraw all the winning amounts in your bank account after completing your KYC on the app.
3. My11Circle
My11Circle is one of India's most trustworthy fantasy sports apps. The platform has a user base of more than 13 million. It has distributed more than 100 crores to players as cash rewards. Sourav Ganguly, the Ex-President of BCCI, and top players like Shane Watson and Rashid Khan are its brand ambassadors. If you avoid taking risks and want to participate in some mini-league, then MY11Circle will be a good option.
Unlike other platforms, in MY11Circle, you don't have a maximum withdrawal limit. It means a user has the facility to withdraw all their money at one time. The app also allows you to play other games like kabaddi, football, basketball, etc.
4. Gamezy
Gamezy is a new fantasy cricket app by Gameskraft, India's fastest-growing sports platform. The app was launched at the time of IPL 2020. The app is relatively new in the market but has established a great position for itself because of the unique and exciting rewards it offers. Gamezy is one of the most rewarding fantasy gaming platforms for gamers looking to win exciting cash rewards. To date, they have over 10 lakh active users and distributed over Rs 20 crore in cash rewards.
In Gamezy, you can not only play cricket but also football, quizzes, and some of the best rummy games on this platform. KL Rahul is the brand ambassador of this app. Users can easily withdraw their winning balance from the Gamezy wallet. The app allows you to withdraw as low as Rs 25 in your Paytm wallet or Bank account. Also, the users need not verify their accounts, as the PAN or BANK details are not mandatory for withdrawals.
5. MPL
MPL, which stands for Mobile Premier League, is amongst one of the best fantasy apps, with Virat Kohli as their brand ambassador. This app allows users to play fantasy football, cricket, basketball, and various other games and earn good cash rewards. You get more than 60 games to choose from, and each game has the feature of real-time money.
If you don't like fancy sports but would like to play regular games like Ludo, Poker, Pool, Rummy, etc., you can play them all on MPL and earn cash rewards simultaneously.
6. BalleBaazi
BalleBaazi is all about cricket. It is a fantastic and easy-to-operate fantasy cricket app that is ideal for you if you are a novice player. The app provides some of the most advanced and unique features. They have legendary Indian All-Rounder Yuvraj Singh as their brand ambassador.
It is another excellent fantasy app for playing games like cricket, football, etc. You will get Rs 50 as a cash bonus on downloading the app. This app provides a great referral program wherein users are offered cash rewards for referring to the app.
7. Vision11
It is a fantasy sports management website that provides Indian sports lovers with a platform to showcase their skills in the game. Vision11 has one of the fastest growing user bases despite only having been released a few years ago.
You need to be skilled and knowledgeable about sports to play Vision11. You can choose your own real-player team for sports like cricket, football, and the NBA. In all fantasy games, it enables users to participate in tournaments with low entry fees. Over 2.5 million people use it regularly worldwide.
8. CricPlay
CricPlay is our next addition to the list of top 10 fantasy cricket apps. CricPlay allows you to play two types of fantasy cricket. One is the Fantasy league which is similar to other apps wherein you choose 11 players. Prediction is a different kind of fantasy cricket, where you don't need a virtual team. You just have to predict some answers before the match starts and can win rewards if you get your answers correct.
9. Winzo Gold
Winzo Gold is an online mobile sports platform where you can play online games and win huge cash prizes. It's 100% legal and follows all the guidelines set by the Indian government for online mobile sports. Here you get an option to select from the numerous games available on the forum.
The app gives its users a sign-up bonus of Rs 50. It offers fantastic referral programs. Users also have the option to use the platform in more than 12 languages.
10. Jeet11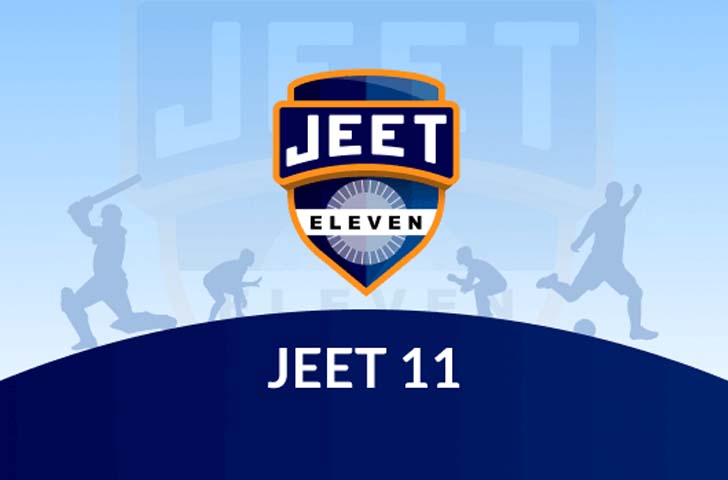 It's one of the fastest-growing fantasy cricket apps in India, which is available in the form of a web application and APK for Android users. In this app, users get Rs 100 cash bonus for downloading the app and another 100 for every new referral. This app also has a share chat feature for its users.
Jeet11 is the right app for you if you like to play cricket quizzes. Here the players can win cash prizes by just predicting the score or stats of the match.
Future of Fantasy Apps
Gaming has become a recreational activity and a source of entertainment throughout the country. Fantasy has gained a lot of popularity in the last few years. The vast fan base and people's utmost interest in cricket have made India one of the largest fantasy game markets in the world.
The fantasy sports sector is expected to be valued at Rs 1.65 lakh crore by FY2025 with a compound annual growth rate (CAGR ) of 38 percent, as per a report by Delloite. AR and VR will play a significant role in developing India's sports culture and ecosystem here. This advanced gaming technology will help people create a real-life experience while playing virtual games. Interactive gaming will also be in high demand in the coming future. Fantasy apps offer a great platform to engage sports fans more profoundly and personally.
In the future, Fantasy sports apps may use Artificial Intelligence (AI) to deliver personalized user experiences by analyzing data through deep research. The growth of smartphones will also provide a boom to the digital gaming industry.
Conclusion
Unlike gambling and betting, fantasy sports are considered a game of skill by law, so sports enthusiasts are willing to spend money to play. The industry is booming globally, with many sports enthusiasts getting deeply involved in the statistics and planning to sharpen their skills to earn more rewards through fantasy cricket leagues and tournaments. Due to the huge potential, many investors are investing in fantasy apps.
If you are a cricket lover and want to earn money by predicting the outcome of a match, then you must try a fantasy sports app. If you are a sports enthusiast, we have already discussed some of the best fantasy cricket apps for you above. Choose the app that meets your taste and requirement. You don't just earn here by playing but also by referring these apps to your friends. So go ahead and have a great win!
Frequently Asked Questions (FAQs)
Q1: Which fantasy cricket app is the best?
Ans: There are plenty of websites and applications where one may play fantasy cricket. But Dream11 is the best fantasy cricket app for playing cricket online and winning some exciting cash rewards.
Q2: Which fantasy gaming app is the best in India?
Ans: If you want to play fantasy sports other than cricket, such as Football, Kabaddi, Basketball, and US Football, we have put together a list, particularly for you, where you may play fantasy sports and earn fantastic rewards daily.
Q3: Which fantasy cricket app is of the best value?
Ans: We have compiled a list of the ten most excellent fantasy cricket apps in India in 2023 that offer cash incentives to their winners. The withdrawal techniques on these apps are among the best. Additionally, users also receive bonuses for referring these apps to their friends.
Q4: Which one, Dream11 or MyTeam11, is superior?
Ans: These two fantasy cricket apps rank among the best in India and have excellent user interfaces. Additionally, both of these applications provide fantastic daily rewards. However, Dream11 has more users, which would suggest that it is a superior app but also indicates greater competition. As a result, it would be pretty subjective, and we encourage you to test out both apps.