Indian culture has always valued humour, be it in Bollywood movies, satirical plays, folktales, or street performances. However, the recent popularity of standup comedy has dramatically changed the Indian humour scene. Several factors have contributed to this transition, such as the emergence of social media, the rising need for real and relevant entertainment, and a greater realisation of the ability of comedy to tackle taboo subjects and confront societal issues. In this blog, we will talk about the 10 best standup comedians in India, renowned for tickling the funnybones and leaving their audience in splits.
10 Best Indian Standup Comedian In 2024:
When trendsetters AIB entered the live comedy scene in 2015, the Indian stand-up comedy scene took off. Not only did they introduce the younger generation to the live comic scene and show them a funny side of the world, but they also brought about a revolution that altered how Indians perceived comedy. Let us now talk about some great Indian comics who can turn your life's quirks into memorable performances.
1. Anubhav Singh Bassi
Born in Punjab, Anubhav Singh Bassi had an unexpected yet rewarding journey into comedy. After a brief career as an entrepreneur and UPSC aspirant, Bassi, who has a background in law, discovered that stand-up comedy is his true calling.
Comedy Milestones and Special Moments
He appeared in ZEE5's Comedy Couple (2020) and recorded a monologue for Amazon Funnies. 
With the release of Luv Ranjan's Tu Jhoothi Main Makkaar, which starred Shraddha Kapoor and Ranbir Kapoor and was released on March 8, 2023, Bassi made his Bollywood debut in January 2023. 
In February 2023, he created his debut stand-up special, "Bas Kar Bassi," which was broadcast on Amazon Prime Video.
With over 4.7 million YouTube subscribers and 2.9 million Instagram followers, this Indian standup comedian is riding high on the popularity wave.
Also Read: 10 Best Indian Podcasts On YouTube Worth Checking Out
2. Zakir Khan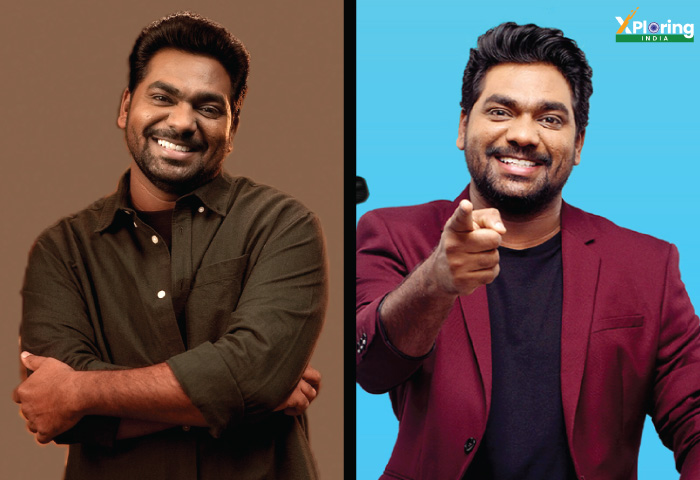 Khan was born and raised in Indore and is one of the best stand-up comedians on YouTube. He became famous in 2012 after winning Comedy Central's contest for India's Best Stand-Up Comedian. Zakir is a treasure, and his comedic films on love and heartbreak never fail to make people laugh. Zakir is the most well-known for turning mundane situations into comic anecdotes and is widely admired for his storytelling prowess.
Comedy Milestones and Special Moments
He has also ghostwritten and produced radio shows. His comedy style was applauded on NDTV Prime's. The Rising Stars of Comedy on NDTV Prime featured him and received positive reviews for his comedic flair.
Khan wrote and portrayed the lead role in the web series Chacha Vidhayak Hain Humare on Amazon Prime.
He participated in Comicstaan Season 2 on Amazon Prime as one of the judges, coaching the competitors in the anecdotal comedy subgenre.
This male Indian stand-up comedian has amassed over 7 million YouTube subscribers and around 600 million views (60 crores) on his videos!
3. Abhishek Upmanyu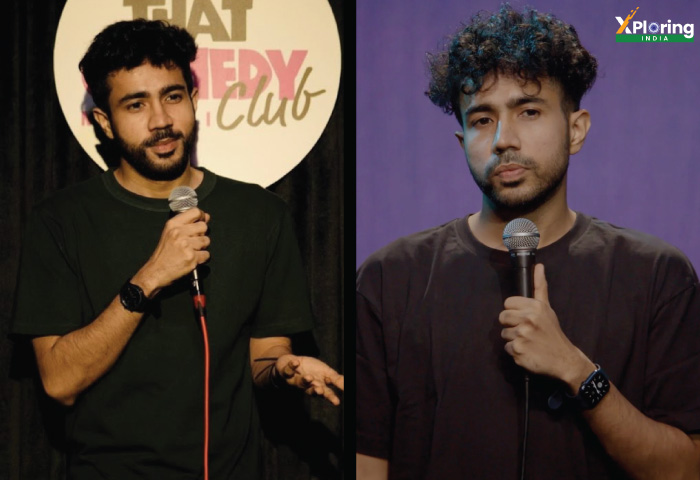 Abhishek Upmanyu, a native of New Delhi, is one of the top stand-up comedians in India today and is known for his observational humour, relatable content, and engaging stage presence. After completing his undergraduate studies in chemical engineering, Abhishek decided to give up his job permanently and pursue his genuine passion in 2013.
Comedy Milestones and Special Moments
Thanks to his endearing demeanour, Abhishek Upmanyu was brought on as a writer for the comedy program "On Air with AIB." He started working with well-known Indian comedians and was getting close to becoming a full-time stand-up comic.
Abhishek Upmanyu is famous for several successful stand-up comedy specials, including "Thoda Saaf Bol" and "Jealous of Sabjiwala." 
Alongside Zakir Khan, Kusha Kapila, and Anubhav Singh Bassi, he was a guest on the popular talk program " The Kapil Sharma Show". His amusing views on marriage and his career left fans in stitches.
With 4.1 million subscribers on YouTube and 2 million followers on Instagram, Abhishek Upmanyu has effortlessly carved his name in the list of stand-up comedians in India and captivated fans with his infectious humour.
4. Sorabh Pant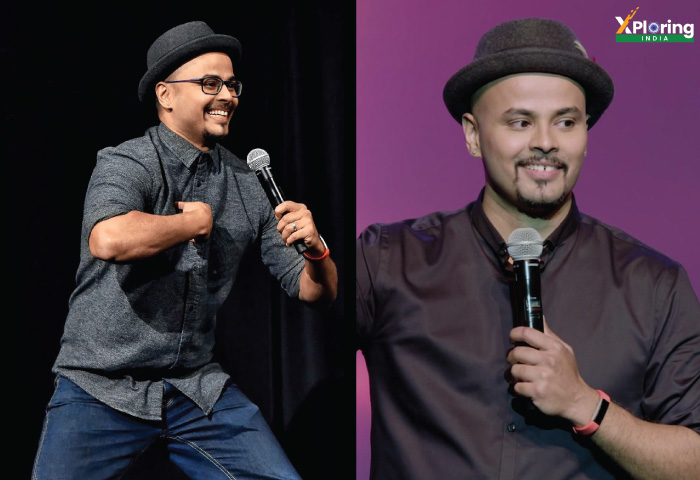 Born in Mumbai, Sorabh Pant is not just among the best Indian Standup Comedians but is also an author of books such as "Pawan: The Flying Accountant" and "Under Delhi." Since 2010, Pant has gained popularity for its stand-up acts, sketches, and online content on politics, social issues, and everyday life. He does humour primarily in English; his jokes are generally anecdotal, crowdwork, and satirical.
Comedy Milestones and Special Moments
He was one of only three Indian comedians to perform his solo act, Pant on Fire, in theatres in November 2009.
When American comedian and actor Rob Schneider was touring India in November 2011, Pant served as his opening act.
Pant authored his debut book, The Wednesday Soul, in 2011.
With 102K followers on Instagram and 361K subscribers on YouTube, Sourabh Pant isn't just accumulating numbers; he's building a community of laughter enthusiasts.
5. Atul Khatri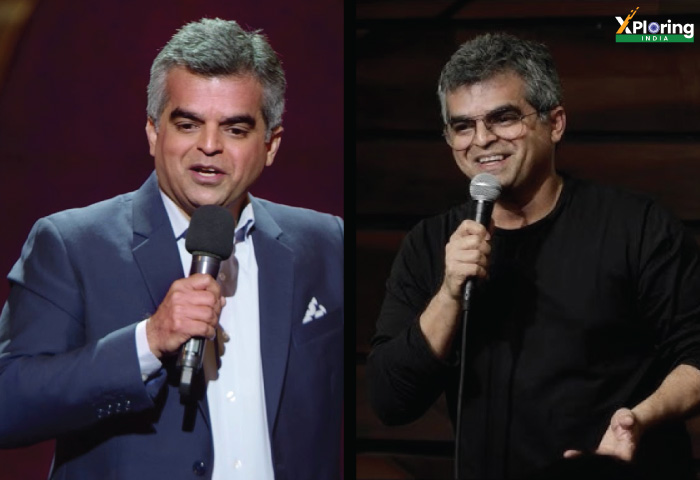 Atul Naraindas Khatri is still going strong and giving all stand-up comedians in India a serious talent competition. With an MBA and a degree in engineering, Atul began his career as the CEO of his family's company. He started a comedy career at the age of 43 while continuing to run his family business.
Comedy Milestones and Special Moments
He rose to prominence with his FremantleMedia "CEO's Got Talent" victory. Khatri has performed in over 400 comedic shows, TV commercials, and YouTube videos.
Khatri was among the top three in the Melbourne International Comedy Festival, which took place in Delhi in 2012.
Khatri does stand-up with East India Comedy and at The Comedy Store and the Canvas Laugh Factory. 
His over 394K YouTube subscribers and 254k followers on Instagram are evidence of his enormous popularity. 
Also Read: 15 Best Hindi Web Series On Disney Plus Hotstar You Shouldn't Miss
6. Vir Das
Born in Dehradun and raised in Nigeria, Vir is widely recognised for his stand-up performances in India and internationally. Vir earned his degree in theatre and economics from Knox College, Illinois. After that, he came to India in 2003 and hosted his debut show with "Zoom". His career as a professional standup artist started with a performance of "Walking on Broken Das" in New Delhi.
Comedy Milestones and Special Moments
He hosted two well-known television programs on the Zoom channel: "Is Route Ki Sabhin Linein Mast Hain" and "Ek Rahin Vir," a late-night stand-up comedy show.
Das is also an actor who has performed in numerous Hindi movies, including Delhi Belly, Go Goa Gone and Badmaash Company. 
Along with writing and directing History of India: VIRitten, Vir Das has collaborated with Ashvin Gidwani Productions-AGP on stand-up shows like Walking on Broken Das.
With a staggering 809k subscribers on YouTube and 1.1. Million followers on Instagram, Vir Das has earned a place for himself in the world of stand-up comedy. 
7. Kenny Sebastian
Kenny, whose real name is Kenneth Mathew Sebastian, is a popular stand-up comedian cum musician, and filmmaker. Born in Kerala and raised in Bangalore, he is known for his stand-up specials like "Don't Be That Guy" (2017), "The Most Interesting Person in the Room" (2020), and "Trailing" (2021).
Comedy Milestones and Special Moments
When Kenny was 19 years old, he competed in and won his first-ever comedy show at the IIT Fest in Mumbai. At 23, he had already directed two feature films and twelve short films. 
He also produced The Living Room, an improvised sketch show on Comedy Central.
He briefly appeared in three web series: Pushpavalli by Sumukhi Suresh, Better Life Foundation by Naveen Richard, and Humorously Yours. 
With an impressive 2.2 million subscribers on YouTube and 1 million on Instagram, his success is a testament to his ability to engage an audience through the genuineness of his daily existence. 
Also Read: 40 Best Youtubers in India Who Have Inspired Many
8. Kanan Singh Gill
Kanan, who is an engineering graduate by education, spent his formative years in Dehradun and Delhi. He is known for Pretentious Movie Reviews, a popular YouTube series that helped him become popular. He and Biswa Kalyan Rath evaluated and critically criticized prominent Hindi films. He was in a band, "Jhana", and when he started writing "funny songs," he eventually became a lead singer.
Comedy Milestones and Special Moments
Gill debuted as an actor in 2017 alongside Sonakshi Sinha in Sunhil Sippy's Noor.
Gill debuted with his "Keep It Real" special on Amazon Prime Video in 2017. 
His 'Yours Sincerely' special was made available on Netflix in 2020.
He occasionally appears in productions made by his friends, notably Better Life Foundation, a web series by Them Boxer Shorts.
With an astounding 768.3K followers on Twitter and 80K YouTube subscribers, Kanan Gill's incisive insights and funny thoughts find a home with a varied audience.
9. Harsh Gujral
Born in Uttar Pradesh, Harsh is known for his modern and unique style of observational humour. He began his career as a Database administrator with IT firms. He rose to prominence due to his comics show, "Joh Bolta Hota hai, Wohi Hota", both in India and abroad.
Comedy Milestones and Special Moments
Gujral has been on television, most notably on the famous program "Good Night India" on SAB TV (Sony LIV app), which was presented by Jaya Shankar and Amit Tandon. 
In 2021, Harsh and stand-up comedian Anubhav Singh Bassi's cooperation on the video "Harsh & Bassi Unleashed" became extremely famous, with over 28 million views on YouTube.
In 2021, Harsh called a cricket match in real-time during the Indian Premier League.
After launching his YouTube channel in 2019, Gujral has amassed over 1.9 million subscribers and 1.6 million followers on Instagram, positioning him as one of the nation's most prominent social media figures.
10. Aakash Gupta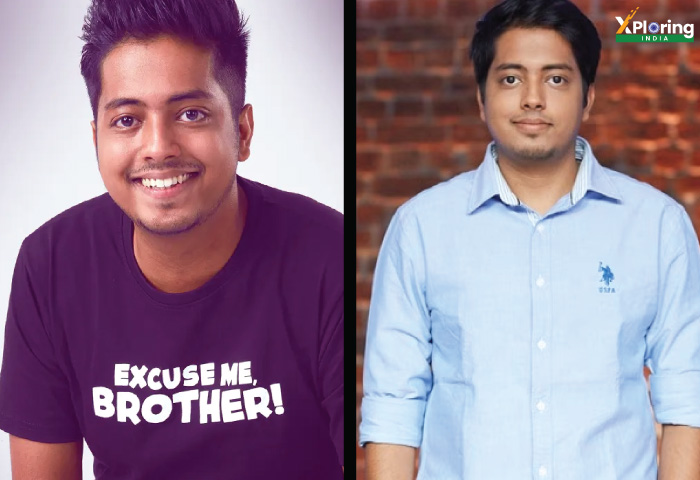 Aakash Gupta was born in Delhi. After graduating, he started performing theatre with several groups in Delhi and worked for a year as an audit associate at KPMG. His Stand-up Comedy career took off in 2018 after he appeared on the widely watched comedy show Comicstaan.
Comedy Milestones and Special Moments
In the second season of Comicstaan, a stand-up comedy competition TV show, he shared first place with another contestant.
In 2019 and 2020, he was awarded a YouTube Silver Play Button and a YouTube Gold Play Button. 
He created the stand-up video Paan in 2022, and within less than a day of its publication, it became the #2 trending video on YouTube.
On YouTube, Aakash Gupta has an incredible 3.33 million subscribers and has a massive following of one million people on Instagram. 
Conclusion
India's stand-up comedy is becoming a national phenomenon that has won over people's hearts and minds. Its ability to provide cathartic release, relatability, sincerity, and openness to question conventions has made it a potent force in Indian society.
The stand-up culture has the potential to influence the country's cultural discourse and give voice to those who disagree with mainstream narratives. From Atul's hilarious tweets to Akash's unique stand-up videos, these self-assured male Indian stand-up comedians have conquered the minds and hearts of young generations and continue to make us laugh.
Also Read: 15 Best TVF Web Series To Enjoy With Your Friends and Family
Frequenthly Asked Questions (FAQs):
1.Who is the No 1 comedian in India?
Determining the No 1 comedian is subjective and differs from person to person. With more than 5 million YouTube subscribers, Zakir Khan is among the most well-known stand-up comedians in India. He has performed worldwide and made headlines in 2016 when he showed up at AIB Day. Other famous Indian stand-up comedians are Sorabh Pant, Atul Khatri, and Abhishek Upmanyu.
2. Who is the best Indian stand-up comedian of all time?
The "best" Indian stand-up comedian of all time depends on personal taste and is a subjective determination. A variety of genres can be found in comedy, and different comedians appeal to different types of audiences. However, Zakir Khan has a devoted fan base thanks to his distinct style and relatable content. His connections, life views, and personal experiences are frequent sources of inspiration for his comedy works.
3. Who is the best Hindi stand-up comedian in India?
Abhishek Upamanyu, renowned for his quick wit and sharp observations, began his career at the Canvas Laugh Club. His ability to turn ordinary events into hilarious anecdotes is the source of his comedic brilliance. He is regarded as the best Hindi stand-up comedian in India.
4. Who is the most expensive standup comedian in India?
Zakir Khan, who ranks among India's highest-paid stand-up comedians, is a master of humorous storytelling, and his experiences have been turned into catchphrases for younger audiences. 'Haq Se Single,' his particular act, sold out shows to an audience of thousands.