DisneyPlus Hotstar has been a leading streaming provider in India for a while now. It's known for its captivating shows that have made a lasting impression on the Indian audience. Even after ending its long-standing content agreement with HBO in early 2023, Disney+ Hotstar still offers timeless classics like "How I Met Your Mother," "Prison Break," and "Modern Family." Additionally, it features critically acclaimed shows such as "Criminal Justice," "Special OPS," and several Marvel titles. As a result, it continues to be a top choice for those seeking the best Hindi web series on Hotstar.
Disney+ Hotstar also offers a wide range of TV shows from Disney and its related networks, as well as content from networks like Showtime. It's also the place to be for major sports events like the Indian Premier League.
In this list, we've picked the best web series currently available on Disney+ Hotstar, ensuring you'll have plenty of great shows to watch.
p.s-If you haven't already, subscribe to Disney Plus Hotstar by clicking the icon below. The cost of a yearly subscription to the streaming service is Rs 1,499.
Top Hindi Web Series On Disney+ Hotstar you must watch.
Whether you like stuff from all over the world or things from your own area, Hotstar has something that will catch your attention. It has a bunch of shows and movies that they made themselves, and they also have stuff from big companies from all over the world. Some of the best Hindi web series on Hotstar are Grahan, Special Ops, and Aarya, among others. Let's explore this list of extremely gripping shows that you can binge-watch.
1. Special Ops
Genre – Thriller
Director – Neeraj Pandey
Starring – Kay Kay Menon, Karan Tacker
Special Ops is an action espionage thriller top Hindi web series on Hotstar. This web series follows Himmat Singh (Kay Kay Menon), a near-retired RAW official, and his nineteen-year search for a man who is responsible for all of the attacks that occurred in India during this time period and who no one thinks exists. He is, however, under official investigation for his excessive use of government funds. The series progresses as Himmat's task force squad of five special operators from around the world aims at capturing the mastermind, and the intense drama keeps you intrigued until the end.
In 2021, a prequel to "Special Ops" was released, titled 'Special Ops 1.5: The Himmat Story.' This mini-series delves into the backstory of superspy Himmat Singh, revealing how he transformed into the beloved RAW officer we got to know in the first season.
2. Criminal Justice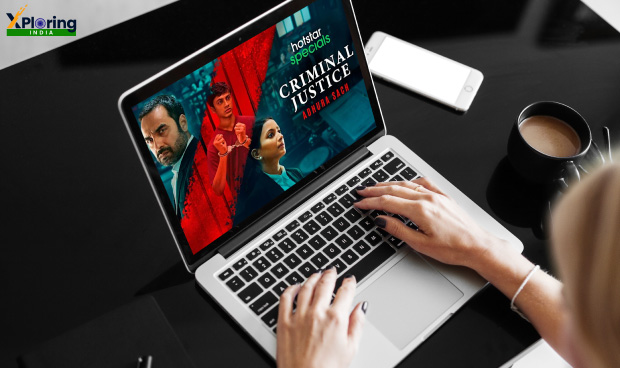 Genre – Crime / Drama
Directors – Dhulia & Furia
Starring – Vikrant Massey, Pankaj Tripathi
Criminal Justice is a crime thriller legal drama written by Shridhar Raghavan and directed by Tigmanshu Dhulia and Vishal Furia. Aditya (Vikrant Massey), a cab driver, has a one-night stand with his customer Sanaya (Madhurima Roy) in the thriller TV series. He spends the night in her house, but when he wakes up, he is in a pool of her blood. Soon after, the cops accuse him of murdering Sanya, and it's up to his lawyer, Madhav Mishra (Pankaj Tripathi), to get him clean. It is inspired by Peter Moffat's 2008 British television series of the same name. Another adaption is HBO's The Night Of.
3. Hostages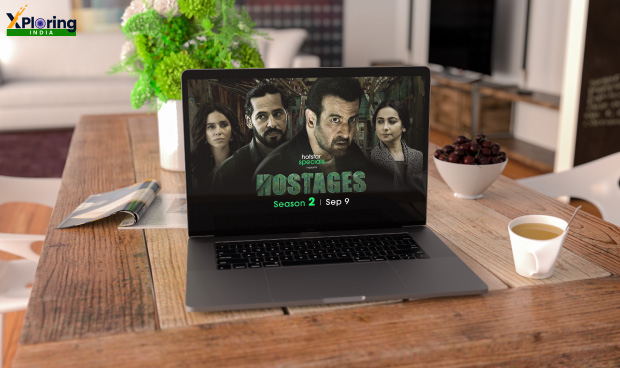 Genre – Crime / Thriller
Directors – Sudhir Mishra, Sachin Krishn
Starring – Tisca Chopra, Ronit Roy
It's a crime thriller series where a doctor's family gets kidnapped by four masked men the night before she's scheduled to operate on a highly influential and powerful politician in a Hindi TV series on Hotstar. With her family held hostage, Dr. Mira Anand, a surgeon, must save them by assassinating the important political figure. The TV show "Hostages" features well-known stars like Tisca Chopra, Ronit Roy, Parvin Dabas, Aashim Gulati, and Mohan Kapoor. Ronit Roy and Tisca Chopra's performances are outstanding, making the show a must-watch that keeps you on the edge of your seat until the very end.
4. Aarya
Genre – Thriller
Directors – Ram Madhvani & Sandeep Modi
Starring – Sushmita Sen, Chandrachur Singh
This is one of the top hindi web series on Hotstar with 3 hit seasons. This is the story of a happy and well-off family in Rajasthan. Their lives are shaken when the family's patriach, Chandrachur Singh, is unexpectedly mudered. Now, it's up to the matriarch, Sushmita Sen, to take charge and protect her family in the midst of a drug war they're caught up in. She can't put her faith in anyone, not even her closest friends. This nine-part thriller series was one of Hotstar's top original shows. In season 2, Aarya Sareen is back in India, working tirelessly to shield her children from foreign gangsters, rival crime bosses, and even her own family. Unlike the previous season, Aarya now knows the ins and outs of the business. Sushmita Sen, once again, proves she's an incredibly talented and powerful actress.
5. Grahan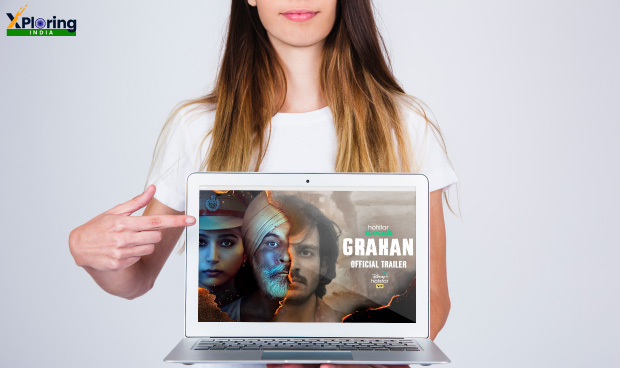 Genre – Crime
Director – Ranjan Chandel
Starring – Zoya Hussain, Pawan Malhotra
Grahan, a gripping crime thriller based on Satya Vyas' novel "Chaurasi," serves as a bridge between two worlds that are several decades apart. Set against the backdrop of 1984, the story witnesses a tender love story tragically impacted by the anti-Sikh riots. In the year 2016, IPS officer Amrita Singh learns a secret linking the past to her present. She discovers that Gursevak Singh, her Sikh father, was the prime accuse in the 1984 anti-Sikh riots in the quiet industrial town of Bokaro, Jharkhand. She decides to discover the truth.
Through her investigation, a touching tale of love, trust, betrayal, and sacrifice unfolds. As the show further progresses, secrets from the past identities and relationships surface, and some unsettling and uncanny connections between 1984 and 2016 emerge.
Also Read: 15 Best TVF Web Series To Enjoy With Your Friends and Family
6. City Of Dreams
Genre – Political Drama
Director – Nagesh Kukunoor
Starring – Priya Bapat, Siddharth Chandekar, Atul Kulkarni
Nagesh Kukunoor's directed this political drama is listed in the best Hindi web series on Hotstar. The plot of the show revolves around a fictional political dynasty in Mumbai. An assassination attempt is made on the father, one of the most powerful figures in this family, and a power struggle between his daughter and son ensues, blurring the borders between what is right and immoral. Priya Bapat and Siddharth Chandekar, two lesser-known actors, give outstanding performances in the TV series. Meanwhile, it casts well-known TV actors in crucial roles such as Atul Kulkarni, Sachin Pilgaonkar, and Eijaz Khan.
7. Rudra: Edge of Darkness
Genre – Crime/ Thriller
Director – Rajesh Mapuskar
Starring – Ajay Devgn, Raashi Khanna, Esha Deol, Atul Kulkarni
Rudra: Edge of Darkness marks the OTT debut of Ajay Devgn is a remake of the popular British series Luther, and serves as a crime thriller set in Mumbai. The story revolves around DCP Rudraveer, who becomes consumed by both the crimes and personal troubles while investigating a case. Raashi Khanna, Esha Deol, Atul Kulkarni, Ashwini Kalsekar, Tarun Gahlot, Ashish Vidyarthi, and Satyadeep Misra all play important roles in the series. The show received much love from viewers and garnered praise from experts. It was honored as the Best Web Series of the year at this year's Dadasaheb Phalke International Film Festival Awards.
8. Great Indian Murder
Genre – Murder Mystery
Director – Tigmanshu Dhulia
Starring – Richa Chadha & Pratik Gandhi
An adaptation of the novel "Six Suspects" by Vikas Swarup, directed by Tigmanshu Dhulia and stars Richa Chadha and Pratik Gandhi as the lead detectives solving the crime. The story is about the murder of a notorious industrialist and the son of a major politician is the focus of the nine-part drama. He was shot dead at his own party, and the cops must examine many suspects to uncover the killer. However, the plot is more complicated than that. All of the main characters have backstories that keep you guessing until the end. In the meantime, the investigators have their own agenda.
9. The Night Manager
Genre – Crime Thriller
Director – Sandeep Modi & Priyanka Ghose
Starring – Anil Kapoor & Aditya Roy Kapur
Based on the British television series of the same name, The Night Manager is a thrilling and gripping top Hindi web series on Hotstar that tells the story of an ex-Indian soldier, Shaan sen Gupta. The Night Manager's Hindi version stars Anil Kapoor and Aditya Roy Kapur in main roles. The plot revolves around a night manager (Kapur) who finds himself in the company of some extremely dangerous people while attempting to help a hotel guest, an underage girl who is being exploited by a gangster. While the girl does not survive, the manager vows vengeance for her death. He has the perfect opportunity to climb the ladder by infiltrating the criminal organisation he's attempting to bring down and becoming close to the top boss, aka Anil Kapoor.
10. Saas Bahu Aur Flamingo
Genre – Drama
Director – Homi Adajania
Starring – Dimple Kapadia, Radhika Madan
Dimple Kapadia stars as Savitri, a strong matriarch heading a Robin Hood drug syndicate in this thriller crime drama on Disney+ Hotstar. When her sons return home, she has to find a plan to safeguard her empire from their enemies. Savitri's three daughters-in-law, on the other hand, play an important part, as they each have their own secrets and agendas.
The series is filled with numerous twists and turns as it digs into the murky world of drugs and violence. Watch it for its sheer entertainment value, the beautiful portrayal of Rajasthan, and the polished performances of the cast members.
Also Read: 10 Best Netflix Series Of All Time To Add To Your Watch List Today
11. Home Shanti
Genre – Family Drama
Director – Akanksha Dua
Starring – Supriya Pathak and Manoj Pahwa
If you are looking for light hearted family drama, "Home Shanti" on Disney+ Hotstar might be just what you're looking for. It follows the Joshis, a middle-class family from Dehradun, as they work on building their dream home. Even though their journey has its share of challenges, it's also filled with moments that will make you laugh. This heart-warming show has six episodes, each about half an hour long, making it easy to watch. If you enjoyed "Gullak" on Sony Liv, you might find "Home Shanti" to your liking. The show features veteran actors like Supriya Pathak and Manoj Pahwa in the lead role.
12. Dahan
Genre – Supernatural/ Horror
Director – Vikranth Pawar
Starring – Tisca Chopra, Saurabh Shukla, Rajesh Tailang, Mukesh Tiwari, Ankur Nayyar
What happens when the force you worship becomes the force that terrifies you the most? In the story of conflict called 'Dahan – Raakan Ka Rahasya,' we get into a dark tale of myths and superstitions in the rustic town of Shilaspura. As a mining expedition threatens the sacredness of the land, the residents worry that an ancient curse might come true, potentially wiping out humanity.
Directed by Vikranth Pawar, this online series of supernatural horror in Hindi language is one of the best Hindi web series on Hotstar, with a talented ensemble of modern actors.
13. Human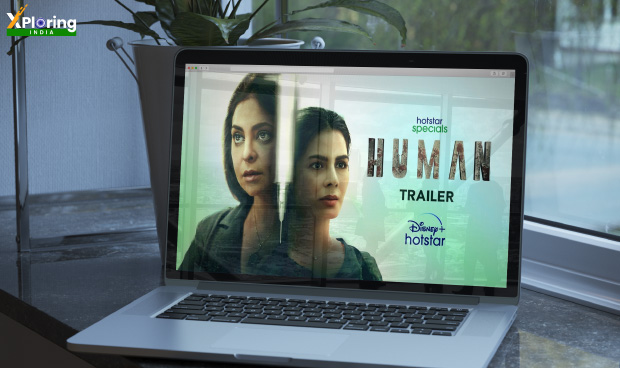 Genre – Medical Thriller
Director – Vipul Amrutlal Shah
Starring – Shefali Shah & Kirti Kulhari
Shefali Shah, a highly successful neurosurgeon plays the lead role in the show. She owns one of Bhopal's most prominent hospitals and also runs an illegal drug trial on innocent and needy people as a side hustle. Saving lives takes a back seat in the race to develop the next money-making medicine, which she eagerly anticipates consuming. In addition to Shah, the show stars Kirti Kulhari, Indraneil Sengupta, Aditya Srivastav, and other well-known actors. This 10 episodes show will make you experience a wide range of emotions, from fear and shock to complete disgust.
14. Criminal Justice: Behind Closed Doors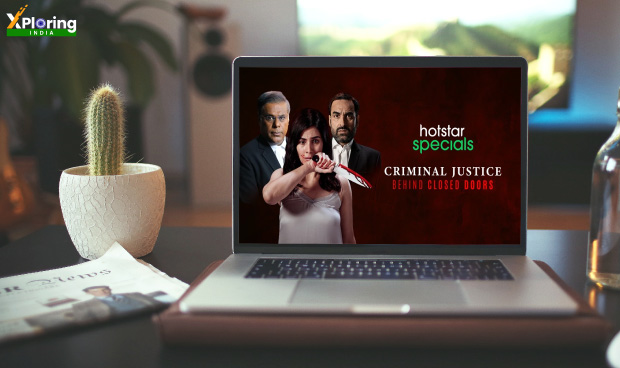 Genre – Legal Drama
Directors – Rohan Sippy & Arjun Mukerjee
Starring –Kirti Kulhari, Pankaj Tripathi
Criminal Justice, Hotstar's immensely popular courtroom drama, returned with a new season in 2020. It's a whole new plot, not a continuation of the previous show of the same name. Behind Closed Doors is around Anuradha Chopra, a young woman who goes on trial for stabbing her seemingly perfect lawyer husband. Many people believe her case is closed, but years of domestic abuse are behind her desperate effort of self-preservation. It is a must watch for fans of the legal genre, starring Pankaj Tripathi and Kirti Kulhari.
15. Aaakhri Sach
Genre – Thriller
Directors – Robbie Grewal
Starring – Tamannaah Bhatia, Abhishek Banerjee
Featuring Tamannah Bhatia in main lead, "Aakhri Sach" is a bone chilling crime investigative thriller series in Hindi. The series is based on the 2018 infamous mass suicide of 11 family members in Delhi's Burari, a tragedy that deeply impacted not only Delhi but the entire nation. Directed by Robbie Grewal, the series also stars key actors, including Abhishek Banerjee, Danish Iqbal, Nishu Dikshit, Shivin Narang, Kriti Vij, and Sanjiv Chopra, all delivering commendable performances.
To sum it up, these are some great Hindi TV series on Hotstar that offer different kinds of stories, from serious to funny and mysterious. Once you finish these and want more, remember that Hotstar has many English TV shows to enjoy as well. So, there's a lot of entertainment waiting for you on this platform, not just in Hindi and English but also in various Indian languages. Begin with these, then when you're ready, there are a plethora of other series to discover.
Have fun watching!
Also Read: We Are Hooked To These Indian Web Series Of 2022. Take A Look!
Frequently Asked Questions:
Question 1. Which is the Best Hindi web series on Hotstar?
Answer. In terms of views Special Ops is the most-watched series on Disney+ Hotstar with 10.8 million views so far.
Question 2. What are the popular Hindi web series to watch on Hotstar?
Answer. The best web series to watch on Hotstar in Hindi include popular shows like Special Ops, Aarya, Criminal Justice, Hostages, City of Dreams, and Rudra: The Edge of Darkness. These series offer a wide range of genres and captivating storylines that cater to various preferences.
Question 3. Which Hindi web series is trending currently?
Answer. Here are top 5 trending Hindi web series right now:
Scam 2003: The Telgi Story – IMDb rating: 9.3.
Aspirants: Season 2 – IMDb rating: 9.2.
Aarya: Season 3 – IMDb rating: 7.8.
MasterChef India: Season 8
Koffee with Karan: Season 8 – IMDb rating: 6.4.
Question 4. Can I watch Hindi web series on Hotstar for free?
Answer. Disney+Hotstar offers both free and paid content. While some Hindi web series are free to watch, many are behind a paywall and require a Hotstar Premium subscription to watch in full. As a result, while some shows are available without a subscription, others may require a paid membership for unrestricted access.