Highlights:
A viral video showed a snake creeping up on a woman and child relaxing in a hammock.
Over 22 million people have watched the video so far.
The Internet has shaken up after witnessing the horrific incident.
We warn you to avoid watching this video if creepy crawlies daunt you. A giant snake is creeping up on a mother and child sleeping in a hammock. They are oblivious to its presence as the massive snake inches closer to them. The video was uploaded to Instagram on the "Snake Videos" account and has garnered over 22 million views as of now.
The video that spread like wildfire on the internet shows a mother and a baby lying down on a hammock while a massive snake approaches from the doorway and slithers close to them. The mother remains asleep in the hammock. After some time, she descends and sits next to the infant, who is swaddled in the hammock. She doesn't notice the snake until it is just a few centimetres away, at which point she hurriedly escapes from the room with her infant.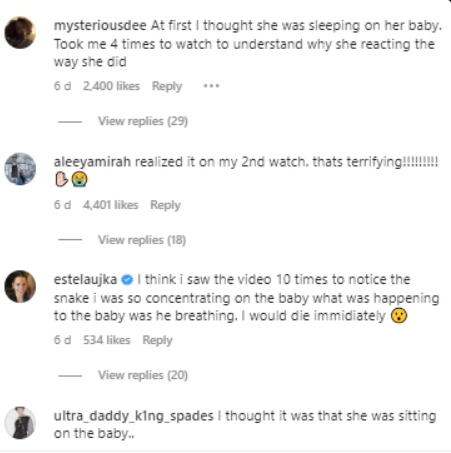 The video left netizens baffled and terrified. It took more than one watch for many to realise that the snake was slowly approaching the mother and baby. "I saw the video 10 times to notice the snake. I was so concentrated on the baby," wrote one user. Another commented, "realized it on my 2nd watch. Terrifying!!!"
How would you react if you were in this situation??? Let us know in the comments!