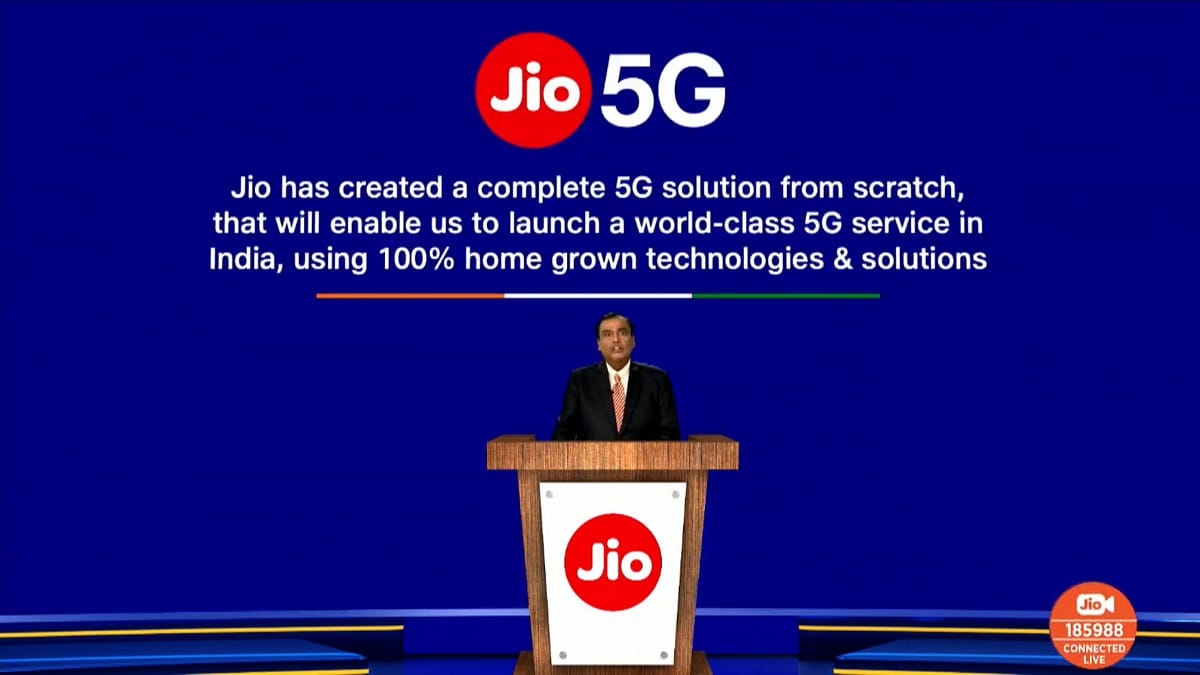 Highlights:
Reliance Jio 'Made in India' 5G solution announced at RIL AGM 2020
The 5G solution will be ready for trials as soon as 5G spectrum will be launched by the government
5G tech will be field ready by 2021
Mukesh Ambani led Reliance Jio has designed and developed a complete 5G solution which has been made in India with only Indian components. This 5G solution will be ready for trials as soon as 5G spectrum is made available by the government of India and will be ready for field deployment by 2021. This announcement was made by Mukesh Ambani himself at the 43rd Annual General Meeting (AGM) of Reliance Industries Limited.
At the AGM, Mukesh Ambani said, "Jio has created a complete 5G solution from scratch, that will enable us to launch a world-class 5G service in India, using 100 per cent homegrown technologies and solutions,".
If you are not aware, 5G is the next generation of mobile internet service which will replace the currently in-use 4G LTE connection. With 5G connection, a user can expect faster download and upload speeds s well as lower latency.
Youtube: <iframe width="640″ height="360″ src="https://www.youtube.com/embed/k0b0miKViYg" frameborder="0″ allow="accelerometer; autoplay; encrypted-media; gyroscope; picture-in-picture" allowfullscreen></iframe>
However, the 5G spectrum auctions have not been initiated yet by the Indian Government. India has delayed the 5G spectrum launch and auction by 2021 because of the poor financial health of the telecommunication industry.
Mukesh Ambani said that Jio Platforms with more than 20 start-up partners has managed to build world-class capabilities in 4G, 5G, Devices and OS, Cloud Computing, Blockchain, Big Data, AR/ VR, AI, Natural Language Understanding and Computer Vision.
Mukesh Ambani said, "Using these technologies, we can create compelling solutions that span multiple Industry verticals and ecosystems like media, financial services, new Commerce, education, healthcare, agriculture, smart cities, smart manufacturing and smart mobility,".
Jio is planning to play it big with its 5G which will see a huge rollout over the next couple of years to come. In the future, Reliance Jio would be well-positioned as an exporter of the 5G solutions to other telecommunication operators all around the globe as a complete managed service, said the company.